Collecting special: Everywhere and nowhere
By Edwin Heathcote
Published: May 27 2011 22:35 | Last updated: May 27 2011 22:35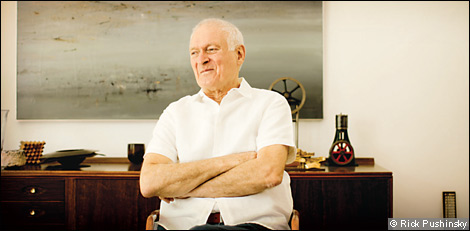 Designer Kenneth Grange at home in London


Kenneth Grange is ubiquitous. The day before I went to talk to him I'd taken a trip on one of the trains he designed and had got into one of the London taxi cabs he designed. I shaved with one of his razors, opened a door using one of his handles and waited for a bus at one of his bus shelters. No other designer has had the same impact on the London environment.
Yet his name will be largely unfamiliar, even to many design aficionados, and the forthcoming show at London's Design Museum will be his first major exhibition for almost 30 years.
Now 82, Grange was born in London to what he describes as "an ordinary background, flowers on the wallpaper, you know the kind of the thing." At school he showed a talent for drawing and worked first as a scene painter for the fledgling BBC TV studios. He then studied at the Willesden School of Art and began working for architects, notably with Jack Howe and Bronek Katz. From bits and pieces of street furniture and fittings designed while with architects he went on to become a pioneering product designer, a field which – although established in the US and Germany – was only just emerging in Britain.
Grange exemplifies a type of industrial designer synonymous with an era of faith in modernism, a passionately held conviction that design could be used to make life and society better. If the designer today is presented by the PR machine as an artist and superstar, Grange represents an era when it was corporations rather than galleries who turned to successful designers.
Grange is sitting with me in his Hampstead house, one of the fruits of his success in the 1960s when he was the most efficacious industrial designer in the country and a partner in the pioneering multi-disciplinary design agency Pentagram.
We're sitting at a big table which serves for dining, display, drawing, even model-making. There's a workshop outside as well, a place of meticulous craft in which every tool has its rigorously designated place. But for now, Grange is surrounded by papers and photos from a full career, trying to hone down a representative sample for the exhibition. Does this mountain of stuff, I wonder, make him reassess his career?
"It's a bit like looking at a family photo album," he says. "I keep seeing things I've forgotten. I'm pleased, perhaps a little disappointed at some moments, but I was lucky to work on a lot of exciting things. I got into this trade [industrial design] so early that clients still had no experience of employing anyone like me and so I was, by default, pushing at the boundaries.
"It also displays all these social phenomena – shows how much life has changed. Everybody used to smoke, so I have a huge catalogue of designs for lighters. And there were paraffin heaters – it's easy to forget it wasn't so long ago that not everyone had central heating. And then, almost overnight, those markets disappeared."
But there were plenty of others to replace them. Grange was commissioned by an extraordinary number of leading companies, in an era when Britain still had a big manufacturing base. He designed the first Kenwood Chef food mixer, irons for Morphy Richards, cameras for Kodak, washing machines for Bendix, pens for Parker, razors for Wilkinson Sword. He designed Britain's first parking meter in 1958 and computer terminals for Reuters. His designs formed the background to everyday life in Britain during the postwar era. How did he manage to design so much? "Well, I've always had a bit of a work ethic," he replies with the cheeky beginnings of a grin. "If you work 12 hours a day, six or seven days a week, you soon find you're ahead of every other bugger."
One job from 1968 exemplifies Grange's particular combination of hard work, initiative, charm and chutzpah. "I'd been approached by British Rail to design a livery for a new train. It was a bloody ugly thing, it looked like a barrel with a port-hole at the front, but I'd learned never to say no to a commission. I'd done some bits and pieces for British Rail by then already – I had a bit of a track record. So, without permission, we started working on a new design, on what a train could be. We tested models in a wind tunnel (slipping the lab technicians at Imperial College a fiver) and we took along the new models, along with all the wind-tunnel information to British Rail." It's hard to imagine a designer today being commissioned for a paint job and coming in with a new train, but that's what happened. And he got the job. The InterCity 125 became the archetypal high-speed locomotive, its sleek nose and simple lines still influential today, over 40 years since it was designed.
When I later ask which of his designs he is most proud of he tells me: "The train still takes some beating. There's nothing like having to live with your designs and it sounds arrogant but there's not much I would change about it today."
Grange is still active but his designs are smaller in scale and for far smaller, design-conscious British manufacturers. The huge British consumer product industry with which he made his name has come and gone, virtually within the span of his career. Grange has eschewed the neophiliac, burgeoning world of "design art", instead concentrating on functional products. How does he view the world of contemporary design and production? "The problem is that it all begins – and ends – with the manufacturing base. And we don't have a manufacturing base any more. I've always admired the Germans for governmentally supporting manufacture but British culture is different, it's buccaneering. It's highly paid managers manipulating finance. It's a completely different model."
We begin to wrap up, flicking through images of endless designs, many still unfamiliar to me even though I thought I knew his oeuvre well. "I've been lucky," he says. "Design education now is big business [he is also Visiting Professor at London's Royal College of Art]. There are all these young designers coming out of colleges now and what are they going to do? The big corporations don't even have design departments like they used to. Some of the kids will fall by the wayside, others are virtually forced into producing one-offs and that way design inevitably becomes a kind of art."
Can design really be art? "I think design in its highest form can be art. The work of the great Scandinavians – think of Arne Jacobsen." He starts deftly sketching Jacobsen's stainless steel Cylinda Line coffee pot. "Look at that," he says. "It's sculpturally, graphically perfect. It's comfortable and it works, you couldn't make it any better and that takes exceptional skill. Or," he grins, "it could just be the most amazing accident."
'Kenneth Grange: Making Modern Britain', Design Museum, London July 20-October 30. www.designmuseum.org
..................................................
Works by Kenneth Grange: Part of the British landscape
Many of Kenneth Grange's creations are so integral to British life that we hardly notice them as pieces of self-conscious "design" – which may, of course, be the highest compliment one can pay to an aesthetically pleasing object or machine whose form and function mesh seamlessly. The pleasing lines of British Rail's 125 train (1968), the London taxi updated in 1997, sleek lamps, irons, washing machines, cameras and chairs for well-known manufacturers are all part of his repertoire.
Copyright The Financial Times Limited 2011.