July 12, 2011 9:38 pm
An aristocrat of a bold type
By Emma Jacobs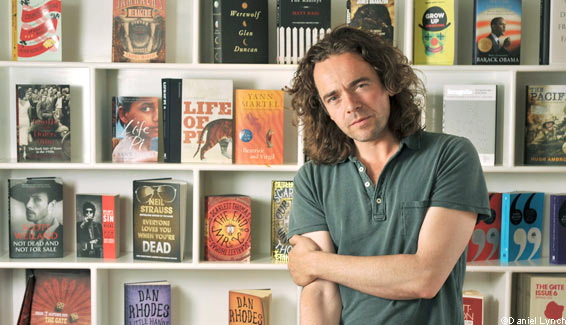 Controversy sells: Jamie Byng has built Canongate's reputation through cutting-edge projects, such as publishing the Bible in instalments with introductions <br/>by well-known authors such as Will Self and Doris Lessing
Big. That is Jamie Byng's reputation. In the gossipy, cliquey, insular world of books, the managing director of Canongate, the Edinburgh-based publishing company he rescued from bankruptcy in 1994, is known as a big-head with a big mouth. Uniformly described by interviewers as "leonine" due to his mane of curly hair, much is also made of the big tufts of chest hair that are said to sprout from shirts open to his bellybutton. "Lord Byng of hype" is a common epithet, a reference to his self-promotion and aristocratic lineage – his father is the eighth Earl of Stafford; his stepfather, Sir Christopher Bland, former chairman of the BBC and BT, the telecommunications group.
Yet, on a sunny morning at his bright, airy London offices in a pretty residential street in affluent Notting Hill, home to American bankers and trustafarians, his locks are tamed and the chest hair is largely tucked away under a faded grey polo shirt. Rather than a turbocharged braggart, he appears effusive, confident and open.
More
On this story
Apologising for the messy desk – in fact, the piles of invitations, letters and hardbacks seem to have some logical order – the bespectacled Mr Byng launches into his favourite subject: books. "[A book] allows [the reader] to enter the mind of someone else in the most intimate of ways. Books. . . allow you to articulate that which you couldn't otherwise understand." There is no interrupting him. "They allow you to make sense of the nonsense." A pause for breath. "Ultimately, the only way you could possibly survive is by creating a narrative to put some structure into what is otherwise just a maelstrom of different feelings, impulses, emotions."
In 1992, the Edinburgh University English literature graduate "fell in love with publishing" when he worked as an unpaid intern at Canongate. Two years later, as the company teetered on the edge of going into administration, he bought it – a feat the 25-year-old would have found impossible without financial backing from his stepfather and his then father-in-law, banker Charles McVeigh. The total cost was £95,000.
"Aged 25, you're naive and optimistic ... I still am in lots of respects." The 41-year-old denies charges that Sir Christopher (now the chairman and substantial shareholder at the company) threw money at his stepson's plaything. "[He] was incredibly rigorous." Nor, he insists, has divorce created problems with Mr McVeigh. "I'm still very close to Charlie [and] my ex-wife. She's the mother of my eldest two children." (He has since remarried and had another child.) "I still love her in lots of respects."
After the acquisition, Mr Byng set about transforming the publisher, forging a cutting-edge identity by creating controversial projects. Perhaps the biggest was the Bible, which he published in instalments with introductions from authors including Will Self and Doris Lessing. "When you've got no money, you have to be very resourceful ... I wouldn't say I was fearless but certainly willing to take risks."
Enthusiasm, he believes, is the reason for his reputation as a publicity-peddler. "If you're passionate about something you are hyping it as opposed to just loving what you do ... there's a great cynicism in this country".
He is being disingenuous. He acknowledges his reputation as a former wild boy helped draw attention to his publishing house. He once told a newspaper: "[Cocaine is] the drug I like most at the moment. Alcohol, nicotine, coke." Today, he reflects on past indiscretions. "Your profile as a publisher can raise the profile of the publishing house and the authors ... Sometimes I'll be too honest ... I'm not naive. It's part of what makes Canongate what it is ... we have [an] irreverent attitude." He has the public schoolboy habit of dropping expletives into conversation to display his anti-establishment devil-may-care attitude.
Nonetheless, the publisher's profile has helped attract writers such as Philip Pullman, whose book, The Good Man Jesus and the Scoundrel Christ, recast the story of Jesus.
Canongate's iconoclastic reputation also helped to secure cyberwarrior Julian Assange's much anticipated memoir, which is being written by novelist and journalist Andrew O'Hagan. Last week, reports circulated that the deal was off over fears that the US government could use the details against Mr Assange, who is appealing against the decision to extradite him to Sweden to face rape allegations. After such garrulousness, Mr Byng is frustratingly tight-lipped and will not add anything to a statement released by the publisher, which said the "contract ... is still very much alive, with over 35 publishers around the world committed to publishing this book". Everything is under wraps, he insists. "It's the book that most people would like to see leaked, so there are security considerations." How much money did he pay the pair? "I never ever say what I paid for a book unless it's so tiny it's laughable."
That brings to mind the publishing house's nickname "cheapskate Canongate". Is the description accurate? "It might be a reputation [but] it's not exactly fair," he retaliates. "We [don't] overpay for books . . . we don't need to because money is not the only thing you're offering to an author ... You've got to publish the book really well and there are examples where agents and authors have decided to accept an offer from us even though it's lower than another publisher's."
Standing out is what publishers have to do, he asserts, as bookshops close, replaced by online retailers, particularly Amazon, e-books challenge print, and agents and authors become publishers. "It's never been easier to self-publish and get your book up there on Amazon. The price of entry to market has never been lower but getting your book to stand out is harder than ever. There's every chance your book will remain obscure and no one will ever read it." This is where, he insists, a creative and flexible publisher, such as his, can make its mark. He cites musician Nick Cave's novel The Death of Bunny Munro as a template for innovation.
The case of Nick Cave
Best known for fronting the band The Bad Seeds, Nick Cave's talents were put to use by Canongate's publishing campaign for his novel The Death of Bunny Munro – a tale about a sex-crazed salesman on a road trip with his son. Alongside the hardback, Canongate released an audio version with Cave reading the entire unabridged version with help from Bad Seeds collaborator Warren Ellis.
It also sold 500 limited editions on a microsite that hosts videos of Cave reading extracts. "The books we do commit to we think about very carefully," Mr Byng explains. "It's not like a conveyor belt where you just throw it out there."
The greatest money-spinners have been down to Mr Byng's literary hunches. In 2006, he read a series of memoirs by a little-known US politician called Barack Obama, and swiftly secured the UK and Commonwealth rights. One presidential election later, Dreams of My Father and Audacity of Hope have ratcheted up sales of 1.2m and 700,000 respectively. Yann Martel's Life of Pi (which won the Man Booker prize in 2001) has been Canongate's best-seller by volume – more than 2m copies.
Despite the precariousness of publishing, he remains adamant that Canongate will continue to be independent. Ten years ago, discussions over a merger with US publisher Grove Atlantic collapsed. "I don't want to go into the details ... It was to do with [valuing] the businesses." He has no need, he says, to look for another partner. "[Ten years ago] was before we published Life of Pi ... we were in a much more vulnerable position ... Our balance sheet is very different [now]." Nonetheless, business is modest. Revenues for 2009, the last reported financial year, were £13.89m, down from £14.7m in 2008, and pre-tax profits fell from £2.62m to £1.85m.
He doesn't want to be swallowed by a big company. "It would be very hard to think why." Money? "Yes, but how much money do you want or need in life? ... I never got into publishing to make a quick buck; it was about creating a great publishing house."
Copyright The Financial Times Limited 2011.