Benefits of a showroom bypass
By John Reed
Published: May 2 2011 21:32 | Last updated: May 2 2011 21:32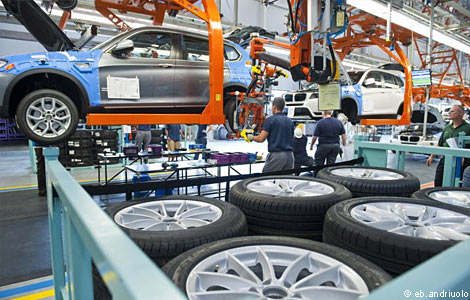 Built-to-order: the BMW X3 in production in Spartanburg, South Carolina


Last November, Mike Romano went to BMW's website and,  with a few clicks of a mouse, assembled his own car.
Mr Romano, a salami factory production manager who lives in Lodi, New Jersey, speaks lovingly of the features he chose for his X3 compact sport utility vehicle: a titanium silver exterior, with dark Vienna wood trim and chestnut-coloured leather inside. The car arrived built to order from BMW's factory in Spartanburg, South Carolina, in mid-January.
But the high point of the experience – which Mr Romano still talks about – was the film he received in the mail . It showed the SUV at various points on the line, from the installation of its "moon-roof" and wiring to the attachment of its trademark twin-kidney front-end grille.
"It shows the vehicle identification number in the corner, so you know it's your own car," Mr Romano said recently, talking via the vehicle's speakerphone. "Without paying a dime extra, this gives you the chance of building your own car."
BMW has long built cars to order for its German customers – who are closer to its main plants – as have its premium competitors Mercedes-Benz and Audi, although none of them yet offers the added perk of a film of the car being built. But in the US, where Henry Ford famously made the Model T only in black for a decade, there is a longer tradition of buying cars from what the dealer has available. Even BMW's high-luxury Rolls-Royce brand, known for its handcrafted, bespoke limousines that sell for £200,000-£300,000 and more, has US dealers ordering cars ahead to allow for a bigger number of impulse purchases from the showroom floor.
Now BMW is seeking to wean Americans off this culture of instant gratification with its "Dream it. Build it. Drive it" programme, timed to co­incide with the recent production launch in Spartanburg of the X3.
The Munich carmaker is pushing the concept hard. In December, BMW invited Martha Stewart, the US television lifestyle guru, to design her own X3 on air, using its "Build Your Own" design tool. Ms Stewart chose a sparkling bronze metallic exterior for the car and sand beige Nevada leather seats, with "fineline" wood trim – one of 70m possible configurations BMW says customers can choose for the car.
In April, Ms Stewart handed the keys of the car to Jody Lunsford of Roanoke, Virginia, a crafter of felt animals who won her "Simply ReMarthable" talent contest. (BMW will not discuss financial terms of its deal under which the service appeared on Ms Stewart's show.)
Factory tours and premium cars

While BMW's films of its X3s being "born" take custom-built carmaking to new levels, the premium end of the industry has been building cars to order for several years.

As part of their service, top-end marques – not just the German brands but Rolls-Royce and Aston Martin too – typically offer a full programme to customers picking up their cars, including factory tours.

Volkswagen's famous "glass factory" in Dresden crafts the brand's top-end Phaeton before the eyes of visitors. VW's Audi brand offers people picking up cars from its plant in Ingolstadt, Bavaria, a full programme, including a factory tour and a visit to the company museum.

Rolls-Royce says that an increasing number of customers visit its plant at Goodwood, England, and some come several times during the production process to see their cars being built.
Behind the high-profile product placement, BMW has some less glamorous but very powerful back-office commercial considerations relating to inventory management as it prods more Americans to customise their own cars.
"The situation today is determined by: 'Here's a car, where's the customer for it?'" says Holger Groitzsch, a BMW executive. "We want to turn it round and say: 'Here's the customer, where's the car for him?'"
Building cars to order is easier than ever these days, thanks to the high degree of flexibility at automobile plants – not just BMW's – which can cope with seemingly endless variety. Any state-of-the-art car factory can roll vehicles with sharply different vehicle specifications – or, increasingly, entirely different models – down the same production line.
While BMW does not charge extra for building to order, the company says customers who use it tend to order more extras on their vehicles, and thus pay more overall. Mr Romano went for optional features including a premium navigation package, and paid $49,000 for his car.
The US culture of buying from car lots saddles retailers with steep costs, too. A good dealer learns to anticipate what customers will want but, if he makes the wrong bet on, for example, a red convertible that sits too long on the lot, he will need to discount it to move it on. "The average dealer in the US has 300 cars in stock – you figure out the capital tied up in that," Ian Robertson, BMW's global head of sales, told the Financial Times recently. "We need to change the mindset that this is good."
But BMW's Spartanburg factory makes only the brand's larger "X" SUVs, and cannot cope quickly with an off-the-cuff order for, say, a 3-Series saloon, made only in Germany.
To cater to US customers who want personalised vehicles that the brand does not build locally, BMW has since 2009 offered a "virtual" build-to-order service via more efficient management of its pipeline of cars in stock.
Under this, BMW in effect allows dealers to pool their stock on a nationwide basis. A car that has not found a buyer in Iowa, for example, goes into a "Dutch auction" and will be dispatched to Florida if a dealer there receives a customer order for a similar car. Mr Groitzsch describes this process as "liquefying" BMW's pipeline of cars in stock. "It gives the customer the impression of getting an individualised car without us having to build it individually."
He learnt the difficulty of anticipating what customers might want at Rolls-Royce, which makes just a few cars a day and thus faces even higher risks relating to inventory.
BMW and its German premium rivals are reporting record sales but they also fight hard for customers. In this context, the company's build-to-order film is a powerful tool in its arsenal.
"Watch while the German-engineered powertrain is married to the body of your vehicle," an assertive male voice says on the clip. The script is standard but the films do, in fact, feature original footage of individual cars being made.
Conrad Meyer, a credit risk manager at an investment bank and another early customer of BMW's new US build-to-order service, says he recently chose the X3 over Audi's rival Q5 because he could get it sooner.
Mr Romano, also the proud owner of a new customised X3, liked the service so much that he recommended it to two friends who have since ordered cars. He says he would not go back to buying off the lot. "You wouldn't have the pleasure of saying: 'This is the car I built,'" he says.
Copyright The Financial Times Limited 2011