China: A future on track
By Jamil Anderlini in Beijing and Mure Dickie in Tokyo
Published: September 23 2010 22:37 | Last updated: September 23 2010 22:37
Having transferred high-speed rail technology to state-backed groups in exchange for access to a vast market, multinationals find they have created their own low-cost competitors
Wuhan station in central China was completed last December amid a spending programme to ease bottlenecks in the country's ageing rail system. The investment formed a central component of the government's stimulus package
There was more than a little historic symbolism on display as California governor Arnold Schwarzenegger posed for photos in front of a Chinese-built bullet train in Shanghai last week.
The "Governator" was on a shopping trip to Asia looking for trains, technology and funding for the planned high-speed upgrade to his state's rail network, much of which was built in the 19th century by Chinese labourers.
"What I have seen is very, very impressive," he said in Shanghai. "We hope China is part of the bidding process, along with other countries around the world, so that we can build high-speed rail as inexpensively as possible."
Beijing could hardly have asked for a better celebrity endorsement for its "harmony express" high-speed trains, which its state-controlled rail companies are churning out for new lines across the country and beyond.
But for the European, Japanese and North American companies that have provided much of the technology for the country's programme, the visit put the spotlight on a worrying trend.
In what many international executives see as a warning for other industries, these companies have spent years "transferring", or selling, technology to state-backed partners in exchange for market access – only to be rewarded with shrinking market share in China as a result of state policies that favour local industry.
Now these companies find their high-speed technology has been "digested" – defined by the government as a multistep process of buying foreign technology, innovating on that existing platform then selling it under a domestic brand – by former Chinese partners. Furthermore, the foreigners find themselves competing head-to-head for tenders all over the world with Chinese companies selling digested high-speed technology at discount prices, often with cheap state bank financing thrown in.
Explore China's ambitious rail expansion plans, compared to its existing network
The domestic high-speed rail industry has sprung up in a few short years. Although the country's companies are yet to make a sale overseas, industry experts say the first is likely to be soon – whether to California or to one of a long list of countries eyeing the technology.
The impetus behind the industry's development is the expansion of the domestic network, a project analysts say is almost certainly the biggest transport infrastructure undertaking since the construction of America's railroads. These unprecedented plans are crucial for dealing with severe bottlenecks in China's aging rail system, a constraint on regional and national growth. They also form a central component of the Rmb4,000bn economic stimulus package introduced in 2008.
Today the country has the world's largest high-speed rail network, which it plans to nearly triple to more than 16,000km by 2020. That will provide enough track to stretch from Beijing to London and back. The government has budgeted well over $100bn each year for the next few years for building and upgrading the creaking system – a figure expected to account for more than half of all global railway spending during that period, according to World Bank estimates.
This enticing market has attracted every major rail group in the world. For more than a decade Beijing has welcomed Germany's Siemens, France's Alstom, Japan's Kawasaki Heavy Industries and Canada's Bombardier among others to enter partnerships with state-controlled companies. Amid intense competition, technology transfer was a requirement.
In 2002, to challenge foreign dominance, the railway ministry unveiled the China Star, a home-grown high-speed system developed at a cost of Rmb140m by state-controlled manufacturers using only Chinese intellectual property. But less than two years later, the ministry announced that the core technology was "immature".
The China Star was quietly shunted into a siding and forgotten as the Chinese companies were encouraged to ramp up digestion of foreign technology instead. As they did so, the ministry continually raised its "local content" requirements.
The ministry refused to answer questions from the Financial Times on these requirements but officials have publicly stated on a number of occasions that at least 70 per cent of equipment for any given rail project must be from domestic companies. As a result, there has been a steep fall in foreign companies' market share.
In 2002 China invested nearly €4bn in the segment of the high-speed market in which foreign companies compete – carriages, signalling equipment and other high-tech track components – and foreign companies captured about 70 per cent of that. Today China invests as much as €17bn in the segment, of which foreign companies account for only 15-20 per cent, earning roughly the same as eight years ago, according to industry figures.
As it celebrated the introduction of locally assembled high-speed trains in 2007, the railway ministry neglected to mention that they were built on a Japanese technology platform provided by KHI and stressed instead national success in digesting foreign technology. The ministry crowed that state companies had managed to acquire high-speed technology at a cost "clearly below" the standard.
In a gleaming factory in the eastern port city of Qingdao, the latest results of that "digestion and re-innovation" programme are being tested. China Southern Railways Sifang is building bullet trains that can run at up to 380km/h and will travel on the Shanghai to Beijing line scheduled for completion by the end of 2012. A preview reveals trains with an uncanny resemblance to the latest Shinkansen bullet trains being introduced in Japan.
Luo Bin, vice-chief engineer at CSR Sifang's Technology Development Centre, explains that his company is no longer co-operating with KHI, from which it bought the original technology for trains able to travel at up to 200km/h. "This is an innovative design based on the technology we had already digested," Mr Luo says, gesturing at the sleek new machine sitting on the test tracks. "This is completely the result of our autonomous design. It's got nothing to do with Bombardier or Siemens. It's got nothing at all to do with Shinkansen."
Yoshiyuki Kasai, chairman of Central Japan Railway, which runs high-speed services and helps parts of the Shinkansen system, says he warned KHI not to pursue a deal that could end up creating a low-cost competitor. "They didn't take our advice. I think it's been a bitter experience for them," he told the FT in March.
"Of course they are angry but they know it would be a waste of time and money to fight against the Chinese government," says one Japanese executive very familiar with the project to supply trains to CSR. "At the beginning the Japanese and also the Europeans were afraid this situation would happen in the future but they thought it would take more time. The Chinese catch-up speed was so fast; they could not have imagined they would be competing [with the Chinese] for contracts in the US."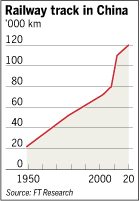 The experience of foreign rail companies is seen by many as ominous for industries from aviation and automobiles to information technology and green technology. In these and other sectors, analysts see strategies emerging in which state-backed companies use the prospect of access to their domestic market to secure transfers of valuable foreign technology that allow them to become global competitors virtually overnight.
The emergence of this strategy in industry after industry has prompted complaints from foreign businesses and spilled over into public criticism from leading foreign industrialists. But companies such as Alstom and Siemens are reluctant to speak out about their difficulties because they fear being locked out of the market. Though they will not complain publicly, some foreign rail executives privately claim that in some cases their technology has been stolen outright and copied by joint-venture partners.
In a recent press conference, railway ministry officials dismissed concerns about forced technology transfer and IP infringement. "China has made use of technology from around the world and through great innovation has made it Chinese," said He Huawu, chief engineer. However, foreign industry executives estimate that roughly 90 per cent of the high-speed technology used in China is derived from partnerships or equipment developed by foreign companies.
In private, officials from international train manufacturers operating in China say it is futile to complain to Beijing or initiate legal proceedings. Despite its claims that all its high-speed technology is now homegrown, the ministry has organised a team of lawyers and officials to investigate how vulnerable state rail companies will be to IP lawsuits when they start selling in the international market.
Some in the industry suggest that, in seeking to gain advantage over their global competitors in China, foreign companies have transferred much more advanced technology to Chinese partners than they admit publicly, which is one reason the domestic companies have been able to increase the speed of their trains in such a short amount of time. They say that without that assistance it would be very hard to increase the train speeds so much without cutting corners on safety.
The foreign companies are reluctant to go public with complaints not only for fear of being shut out of the market. They also have an eye on burgeoning opportunities to form partnerships with Chinese groups bidding on high-speed projects all over the world, from California to Russia, Brazil and Burma. In a recent case, Siemens dropped its own bid to build and operate a line in Saudi Arabia so it could join a Chinese-led consortium.
Though the bid did not go ahead, it highlighted Chinese companies' need for foreign assistance on the most advanced components. It also shows the opportunity foreign companies see in partnering with them elsewhere as they are squeezed out of China.
"Alstom, KHI and Siemens are not banks and do not have the political influence or the full weight and money of the state behind them in the way the Chinese rail companies do," says one senior executive at a foreign rail company.
Although privately livid about having been compelled to create powerful new competitors as a condition of entry into China, foreign companies have started to realise that, if they are not able to beat the upstarts, they may be better off joining them.
'They just want the world's biggest and fastest train set'
John Scales, the World Bank's transport co-ordinator in China, takes a very long view of the country's high-speed rail plans, which he calls "perhaps the biggest single planned programme of passenger rail investment there has ever been in one country", writes Jamil Anderlini.
On the desk of his Beijing office sits a framed copy of The Illustrated London News from November 1857 with a story on the great American railway bond crash. "It is obvious that all the gold in the United States would not suffice to pay back to British capitalists the sums they have invested in American railroads," it states.
Mr Scales' grasp of historical context and understanding of the numerous financing problems that accompany railway expansion do not deter him from being an ardent supporter of China's costly plans to expand its high-speed network. But the expansion is controversial among Chinese academics, with many questioning the merit of spending so much on what they regard as prestige projects.
"This high-speed programme is a political project with little economic value," says Zhao Jian, a professor at Beijing Jiaotong University who favours conventional rail rather than high-speed projects. "The government just wants to have the biggest and fastest number one train set in the world."
While the two agree that individual high-speed rail lines will not be able to cover their costs, Mr Scales thinks that by removing passenger traffic from existing tracks, the high-speed lines will make way for more freight, which could provide the railway ministry with enough new revenues to pay for all the new lines.
Mr Zhao argues that few passenger trains will actually be taken off existing tracks, because they cannot run on the new high-speed lines and the government is not going to scrap all those old carriages.
The railway ministry accounts for as much as 10 per cent of all outstanding debt in the country, according to World Bank estimates. Chinese analysts say the proportion of railway construction funded by debt has increased from under 50 per cent in 2005 to more than 70 per cent last year.
"This is a real debt crisis building up for the government and it is going to break at some point," Mr Zhao says.
But Mr Scales is far more sanguine. "Even if the ministry can't pay for all the new lines, the government will step in to cover the costs," he says. "Governments subsidise their railways in most other countries as well."
Copyright The Financial Times Limited 2010. You may share using our article tools. Please don't cut articles from FT.com and redistribute by email or post to the web.
China needs to exercise caution over rapid rail growth
By Mure Dickie
Published: September 28 2010 20:44 | Last updated: September 28 2010 20:44
Earlier this year, the domestic service of China's state Xinhua news agency issued an extraordinary 15,000-Chinese character article explaining how the nation had achieved "40 years of high-speed railway development in just 5 years".
It is a document that should be required reading for any foreign manufacturer doing business in China, a reminder they are dealing with a nation that is no longer willing to be a technology follower and is able to use the allure of its vast market to catch up.
International train companies are already learning this lesson the hard way. Only a few years ago Japan's Kawasaki Heavy Industries, Germany's Siemens, France's Alstom and Canada's Bombardier all dreamed of winning a leading role in China's high-speed rail sector.
Instead, it is state-owned manufacturers that dominate China's €17bn ($23bn) high-speed rail market, and are now also competing for international contracts – as highlighted by California governor Arnold Schwarzenegger's visit to Shanghai this month to kick the bogies of a China-built "harmony express".
How did China do it? In 2004, local manufacturers looked puny compared with the big international groups hungry to put China on the fast track. How, as the Xinhua article puts it, "could these little fish deal with the big crocodiles"? The answer lay in the decision of Communist leaders to ensure domestic companies worked as a united "China Corps".
"Facing this clenched fist, any big global player entering the Chinese market had to agree to all-round technology transfer, localised production, the creation of a Chinese brand and reasonable prices," Xinhua says.
Foreigners were played off against each other. When Siemens demanded too steep a price for a prototype train and technology transfer, the deal went to its rivals. Xinhua says the German company's next bid was less than half as high.
Chinese engineers also laboured to win the "hide-and-seek" games played by overseas suppliers, successfully working out that rubber carriage joints used in one foreign train design were not there to avoid passengers falling off platforms – as they had been told – but to prevent carriages from rolling sideways.
The process was backed by the state's organisational might. "For the sake of the shared high-speed rail dream, the motherland assembled more than 50 academicians, 150,000 researchers and 600 companies," says the article, which does not appear to have been sent to Xinhua's foreign subscribers, but is available in quirky translation on the website of the CSR state rail company.
The obvious lesson is never to underestimate the speed at which China can absorb even advanced technologies. The consortium led by Japan's KHI that sold Shinkansen trains to China's CSR Sifang, for example, knew its customer wanted to learn its business.
Executives just never imagined that, within six years, China would be running identical-looking trains at world-record operational speeds and marketing them to third countries.
Yet it is worth pointing out that there are risks inherent in China's approach to "digesting" – the official word – foreign technology.
Some foreign executives privately complain that technology digestion can be a euphemism for abuse. They are unlikely to seek redress in local courts, but Chinese producers may need to be ready to fend off legal challenges if they pick up big contracts overseas.
Then there is the deeper question of whether this accelerated approach to advancement is the best way to create a sustainable industry. International train companies have decades of experience and deep mastery of their technology. It is unclear whether the roots produced by Beijing's hothouse development will be as strong, or as able to generate genuine future progress.
During a recent visit to CSR Sifang's Qingdao factory, senior engineer Luo Bin showed me with great pride a full-scale mock-up of its new 380km/h train and its long streamlined nose. Its aerodynamic form – touted as a purely Chinese breakthrough – seemed strikingly similar to that of Japan's newest trains.
China should also remember it is in the midst of conducting an unprecedented experiment in stitching together the world's largest and fastest high-speed railway network from a patchwork of hugely complex foreign and local systems, all acquired or developed within less than a decade.
Vast effort has gone into the project – Xinhua celebrates the engineer who has not had a full weekend at home since 2004. But high-speed rail is a dangerous business; a 1998 accident in Germany killed more than 100 people.
China's railway builders are sure they can avoid any such setbacks. Passengers can only hope they are right.
Copyright The Financial Times Limited 2010. You may share using our article tools. Please don't cut articles from FT.com and redistribute by email or post to the web.
China to loosen west's grip on rail sector
By Robert Wright
Published: September 13 2010 03:18 | Last updated: September 13 2010 03:18
At Siemens' train-making plant in Uerdingen, near Düsseldorf, engineers wear 3-D spectacles as they examine detailed projections of their company's latest designs. The facility lets them rotate multi-dimensional projections of the train and its components to see how easily they can be maintained, how comfortable the driver will be and other minute details.
Similarly impressive work is undertaken at General Electric's main locomotive plant in Erie, Pennsylvania, where the company works to cut fuel consumption and develop hybrid, power-saving techniques.
The world's big-three passenger train manufacturers – Siemens, France's Alstom and Canada's Bombardier – along with GE and Caterpillar's EMD Division, the dominant forces in diesel locomotives, have long bet advanced technology would keep them on top of the world's rail supply market. All have transferred some technology to Chinese partners, largely trusting their designs will not be misused to develop other products.
All argue that, while their products might cost more to buy than those from emerging economies, their superior technology makes them cheaper and more reliable.
But the results of the latest rail market report commissioned by Unife, the European railway industry association, raise the possibility that the big manufacturers could lose market share to cheaper Chinese products.
According to Peter Ulrich, the Boston Consulting Group partner who oversaw production of the report, the question for the big rich world manufacturers is no longer how they should position themselves in the Chinese market. "It's also: 'How do I position myself with the Chinese or against the Chinese outside China?' " Mr Ulrich says.
The dilemma has already faced Siemens after it initially bid to supply high-speed trains for Saudi Arabia's inaugural high-speed rail project – between Mecca and Medina – then instead decided to join a Chinese-led consortium.
Chinese manufacturers are expected to challenge to build infrastructure and supply trains in emerging markets, such as Brazil, Vietnam and South Africa, which are considering developing high-speed rail services. The country's trainmakers could be natural choices to supply diesel locomotives to the many railways being built or modernised by Chinese companies in Africa.
Such developing markets may not feel their needs are met by sophisticated European and North American products, Mr Ulrich says.
But China's suppliers face uncertainties. While there are many Chinese-built high-speed trains in China, all current models are based on European or Japanese technology, and under the technology transfer agreements, exported trains must be new and cannot be based on this.
According to Henry Posner, a US-based railway investor with experience of Africa, reliability problems have also been reported with some Chinese-built diesel locomotives exported to African countries.
European and North American suppliers' technology is expected to retain an edge for some time.
"With European suppliers, with some products it's taken time for us to develop the maintainability and reliability of our products," Michael Clausecker, director-general of Unife, says. "There's still a gap."
Lorenzo Simonelli, chief executive of GE's transportation division, hopes there will be space in the marketplace for all the suppliers. His company has some joint ventures with Chinese suppliers, as well as competing with them elsewhere.
"We focus on technology and making sure we provide what customers say they need," he says.
Yet Mr Ulrich's study predicts a slowdown in average annual growth rates in Asia's rail markets to just 2.5 per cent in the period to 2015-16. That could leave factories supplying China's high-speed network with spare capacity. "Those companies will look for opportunities outside China," Mr Ulrich says.
Copyright The Financial Times Limited 2010. You may share using our article tools. Please don't cut articles from FT.com and redistribute by email or post to the web.