==
FT: A real Mad Man
By Katie Roiphe
Published: July 16 2010 17:34 | Last updated: July 16 2010 17:34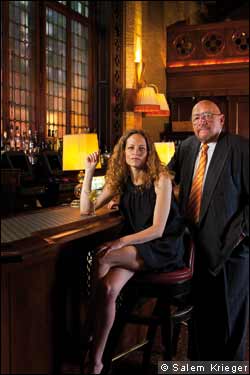 Jerry Della Femina and Katie Roiphe at The Campbell Apartment, New York
If I were truly dedicated to my research and had consumed three martinis over lunch, I'm pretty sure the room would be spinning. I would not be able to retrieve a single moment of productivity – or possibly even coherence – from the rest of the warm afternoon. But would life be more fun, more spontaneous, more joyful, more creative in certain crucial ways? Jerry Della Femina, the inspiration behind Mad Men, Matthew Weiner's phenomenally successful show about the advertising world in New York in the early 1960s, thinks so. He remembers the era when martinis came with lemon peel instead of olives – because olives displaced too much gin. He says now that if he had three martinis, the paramedics would probably have to wheel him out. Della Femina, like the times, has changed.
One can't deny that part of the allure of Mad Men to our healthy and upstanding modern selves is simply watching people light countless cigarettes and pour themselves big glasses of Scotch in their offices in the middle of the morning … all without guilt. As Della Femina says: "You can't light a cigarette now because your child will say, 'Stop it, you're killing yourself.' In those days, everybody smoked. I smoked four packs of cigarettes a day." Della Femina wrote about those four-pack days in his 1970 cult-classic memoir of the advertising world, From Those Wonderful Folks Who Gave You Pearl Harbor, which the creators of Mad Men based their story on.
Della Femina himself is big, sweet and charismatic. He speaks in the Brooklyn tones of his childhood. He reminds me of Edith Wharton saying that she was going to "eat the world leaf by leaf". Della Femina is definitely someone who eats the world leaf by leaf. His is one of those "American dream" stories, in which a poor kid from a neighbourhood one senator described as "the breeding place for crime in the United States" ends up owning a thriving business, a sprawling house in East Hampton, another off Park Avenue and many other fantastical things. One gets the feeling that this journey is one that he never stops marvelling over – and this quality of enjoying life's bounty is contagious. Over lunch in New York's elegant Gramercy Tavern, extra courses are brought to our table – asparagus pudding, scallops tartar, trout something or other – compliments of the chef, because Della Femina, among his many accomplishments, owns a well-known restaurant in East Hampton.
Della Femina has a superhuman amount of energy. He sleeps three or four hours a night; has five books going at once; writes a weekly column for a local newspaper in East Hampton; oversees his restaurant; and runs his advertising business, Della Femina, Rothschild, Jeary & Partners, which is his main line of work. "I want to die at my desk," he says. He appears to view his success as a wonderful punchline to one of the universe's more benign jokes. He did say to himself as a kid, "I'm gonna get out of here." But he couldn't have predicted that he would get out so spectacularly. His father exhausted himself working three jobs at a time, at the printing presses of The New York Times, operating the rides at Coney Island and as a soda jerk in a coffee shop – and his mother worked in a shop sewing dolls and dresses.
Though he learnt his work ethic from his parents, Della Femina might not have seemed the obvious choice for the kid most likely to skyrocket out of the neighbourhood. He had learning disabilities and did badly at school. He once got a 38 in a geometry exam and the teacher accused him of cheating to do even that well. But he read voraciously; he went to the library, took out 10 books at a time and devoured them – everything from pulp fiction to Hemingway. He points out that there may be a direct line from all that Hemingway to advertising copy, with its short, clipped sentences. "I have a small vocabulary which I move around fast," he likes to say.
The 'Mad Men' television series charts the lives of advertising executives in the early 1960s
Della Femina first learnt about selling by working in big department stores such as Macy's and Gimbels, selling bathrobes and toys. In one year, he had 22 jobs. By 20, he was married, had a child and got the idea in his head that he wanted to write advertising copy. In the early 1960s, he started sending ideas to one of New York's smaller advertising agencies. Finally, the agency invited him in, and he offered to work for free. The partner said: "We have to pay you a token salary. How about $5,200?" Della Femina thanked him quietly, shook his hand and agreed to start on Monday. But when he got outside, on to lower Madison Avenue, he screamed with joy. "That 'token salary'," he explains, "was more than any Della Femina in the history of Della Feminas had ever made."
This was one of the smaller, Jewish agencies. He says: "I worked there for two, three months and I was coming down in the elevator one night at 9.30pm and the new boss gets on and he says, 'Workin' late tonight, kid?' And I said: 'Ma nishtana halayla haze mikol haleilot?' which is a Hebrew prayer meaning, 'Why is this night different from any other?' He gave me a $3,000 raise before the elevator hit the bottom." Not every Italian kid from Gravesend, Brooklyn, could pull that off.
Jerry Della Femina reviews print ads at his advertising agency, Jerry Della Femina & Partners, in New York, 1969
When I ask him what made him a natural in the advertising business, Della Femina's first answer is "lack of education". But really it was both his rogue sense of humour and his connection to regular Americans. Someone told him he wrote like a wise guy on the street, and that was his thing: he spoke in the lingua franca, which some of his Ivy League colleagues from Harvard, Yale and Princeton had trouble doing. When he wrote lines such as, "Are you scared stiff your first color television set's gonna turn out to be a $500 dog?", he was thinking about his mother in Brooklyn.
But he also developed a reputation for being crazy. Once, just after moving to a larger agency, he was in a meeting with Panasonic. They said, "We need something to sell the Japanese." And Della Femina said, "I've got it," and everyone listened like he really had it, and he said: "How about 'here's something from the wonderful folks who brought you Pearl Harbor.'" The room fell silent. Everyone thought his career was over.
But that was his persona. He was wild. When I ask him, "Was it calculated, though, or just natural exuberance?", Della Femina looks me straight in the eye. "I invented myself." In other words, he carefully cultivated his reputation for being nuts. In new business meetings, he could always tell he had clinched the account, when the executive said: "You are not as crazy as I thought you'd be."
The office was fun in a way that we can no longer imagine an office being fun. I ask if Mad Men is a glamourised portrait. As far as Della Femina is concerned, the show is tamer than real life was, or as he put it: "We made the Mad Men guys look like Rebecca of Sunnybrook Farm."
Lest we wax too nostalgic for the early 1960s, Della Femina recalls some of the uglier elements of the period. When he first started making money, he bought his wife some fabulous clothes. She visited her parents in Brooklyn, proud of her success. Her mother opened the door and said, "you look like a Jew". Della Femina also recounts being told he couldn't work on the Ford account, because they didn't want someone "of your kind".
Of course, Mad Men owes some of its fascination to the archaic relations between men and women. The casual sexism of Sterling Cooper, with its men in suits calling their secretaries "sweetheart", offers a certain frisson in our world of political correctness. And long after the era of Mad Men, Della Femina cultivated the spontaneity he saw in that time in his own business. In the new introduction to his memoir, he writes: "By 1965, the sexual revolution was on and the advertising business went wild. The atmosphere was sexually charged at my agency. I encouraged it because nothing got creative people to come in early and leave late better than the prospect of a sexual adventure." For 25 years his firm ran a secret sex contest, in which people voted for the person they would most like to sleep with. The winners would get a weekend together at The Plaza Hotel, and the event lasted into the 1990s when sexual correctness finally took over.
The advertising business is less exciting to Della Femina now. "It's different. There's less risk-taking in writing or in art direction. People just basically sort of do their job." Also technology shifted the business more toward the visual, away from sheer verbal cleverness. There used to be people sitting around with giant note pads and art directors with drawing pads … and there is none of that now. "A computer is a wonderful thing," Della Femina says, "but it's cold, and what comes out of it is sort of cold."
. . .
Della Femina himself has remained a colourful figure. On moving to the affluent town of East Hampton, he quickly became involved in controversy. His grandfather had once run a fruit and vegetable pushcart in Brooklyn, and Della Femina opened his own store, Jerry and David's Red Horse Market, to sell exotic fruit and vegetables. But the town required him to paint the shop in regulation green. Della Femina refused. A clash ensued. Later, he placed pumpkins outside it, and was told to remove them on the grounds that they were "advertising". He said, "I am an advertising guy, and let me assure you those are not advertisements, those are pumpkins."
This skirmish ended in a court summons and an arrest warrant. His lawyer called and told him that he had to turn himself in. He was advised that if he turned himself in to the court, it would be quiet, but if he turned up at the police station, he would be dragged through the streets in handcuffs. "What do you think I did?" he asks. And I knew. There were photographs all over of Della Femina in handcuffs. Later, he sued the town for wrongful arrest, and won. But he was too colourful, too successful, too splashy for the old guard of East Hampton. If they could say it now, they probably would say what Ford said to him years ago: they weren't that crazy about doing business with someone "of his kind".
In one of his newspaper columns, he writes about the hedge-fund guys stepping off their private planes for a weekend at the beach. They look so miserable. He wonders, how can they make all that money and be so unhappy? Della Femina is not like those people. Della Femina is happy. He is also still a mad man in the best and finest sense of the words.
Katie Roiphe's controversial first book 'The Morning After: Sex, Fear and Feminism' explored campus date rape. 'Uncommon Arrangements: Seven Marriages' was published in 2008. She writes for Slate magazine and is a professor at New York University
Jerry Della Femina's 'From Those Wonderful Folks Who Gave You Pearl Harbor' is reissued by Canongate this week
.............................
'Mad Men': the story
When Matthew Weiner, creator of Mad Men, finished the script for the pilot episode, he said it was the best thing he'd written – a big boast, considering his record on The Sopranos. But as soon as Weiner's seductive portrait of the 1960s ad world aired, it enthralled audiences.
Don Draper is creative director at Sterling Cooper, a Manhattan advertising agency; he's also a philanderer with a hidden past. His wife, Betty, is an icy Hitchcock blonde, mother to their three children. The first series was set at the end of the Eisenhower administration, and Don and Betty embody the ideal of the era.
By the end of its third series, Mad Men had won millions of viewers, three Golden Globes and Emmys and moved from an era of conformity to one fraught with peril and possibility. What will happen next? The fourth series airs in the US at the end of this month and in the UK later this year.
Meredith Blake, TV writer for the Los Angeles Times
.............................
Life of Jerry
1936 Born in Brooklyn 1961 Junior copywriter, Daniel & Charles
1967 Founds Jerry Della Femina & Partners. By 1970, the company is billing $20m a year
1972 Plans takeover of Saatchi & Saatchi (fails)
1984 Sells his agency, but continues to work there
1992 Sets up new firm, Jerry, Inc. – and opens a successful restaurant
1994 Jerry, Inc. merges to become Della Femina, Rothschild, Jeary & Partners – where he still works today
.............................
This advertising life
Back in the 1960s, everybody smoked hard, drank hard and worked hard. How do today's top admen (and women) behave?
Robert Senior, UK chief executive of Saatchi & Saatchi-Fallon group
Do we all smoke in our offices? No. Do I offer whisky to people who come in my office at 9am in the morning? No. Most people don't have offices any more. The entire premise of creativity is friction and brokering opposing forces. That is what makes creativity interesting. And that is what the Mad Men narrative is about.
Advertising people are ambience managers. If the right context is in place, more interesting work develops. If the right ambience involves alcohol and excess, so be it. But the long lunches are a fraction of what they used to be. People are working harder.
Fernanda Romano, global creative director for digital and experiential advertising at Euro RSCG
Advertising is still a very male industry. If you look around for female creative directors, you won't find many. It's unfortunate. In the rest of the positions it's a pretty even split. But on the creative side it's still a bit of a boys club.
It's a tough job. Women demonstrate their emotions in a certain way. People think you need to be a bit more distant from stuff to make the right calls, which I think is bullshit.
New kinds of agencies will continue to have the "cult of the creative director" but it will be creative director as editor, rather than that guy who is always grumpy, drinks whisky at 11am and is rude to people. That myth is totally being dropped, it just doesn't work like that any more.
Benjamin Palmer, chief executive of digital ad agency Barbarian Group
Most of the time I am not in the office. I can work at a bar fairly effectively if I'm answering questions or writing e-mails. If someone has to crank on some code [for a website], they frequently will work from home for a couple of days in their pyjamas, and that's cool.
Don Draper is trying to one-up his direct competition in New York. Today, we are trying to impress the internet. I don't care so much if I win an award, I care if I get 4½ stars out of 5 on a social network site rating my work. In the new media world, clients are not as empowered as they used to be. Sleeping with one client is not actually going to win you the account. You'd have to sleep with six people.
Interviews by Tim Bradshaw, FT digital media correspondent